Dates and facts about Spain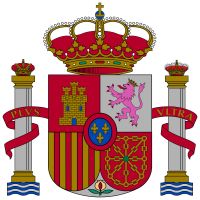 The kingdom of Spain (spanish: Reino de España) is situated in the southwest of Europe and captures the biggest part of the iberian peninsula. In the beginning of 2005 Spain had about 44,1 million inhabitants, which are living on an area of 504,646 km². From which 3,1 million inhabitants are living in the capital Madrid, which is the third biggest city in the European Union after London and Berlin. Head of State is King Juan Carlos I. The slogan Spains is "Plus Ultra" ("Further Beyond").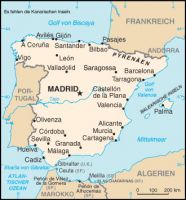 Furthermore to the national territory of Spain belong the Balearic Islands with its main islands Mallorca and Menorca, as well as Ibiza and Formentera in the Mediterranean and the Canary Islands consisting of the seven main islands Lanzarote, Fuerteventura, Gran Canaria, Teneriffa, La Gomera, La Palma and El Hierro, the six smaller islands Alegranza, Graciosa, Montaña Clara, Lobos, Roque del Este and Roque del Oeste in the Atlantic Ocean, as well as the Towns Ceuta and Melilla, situated on the north african coast. In France Spain owns the exclave Llívia. Furthermore Spain owns some islands in front of the Moroccan coast: Islas Chafarinas, Peñón de Vélez de la Gomera, Alhucemas, Alborán, Islas Columbretes, and the island of Perejil, which is as far as possible unoccupied.