Benalmadena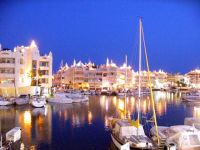 The municipality of Benalmádena extends from the foothills of the mountains near Mijas up to the coast. It is situated approximately 20 kilometers southwest from Málaga and consists of three parts: Benalmádena Costa, Arroyo de la Miel and Benalmádena Pueblo. Altogether approx. 46,000 inhabitants are living here. The tourism turned out to be the largest income, which was substantial advanced in the 50's and 60's by the federal state government.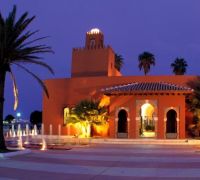 Benalmádena Costa attaches directly to Torremolinos and is very much in demand as coastal resort with spanish and foreign tourists. If you enter the town there is one of the main attractions of the area: the marina. With its yachts, styleful apartments, the small shopping centre and numerous bars and restaurants it stands out doing good against the big buildings along the coast. Also an attendance worth is the sea aquarium named Sea Life, in whose underwater tunnel you can admire sharks and skates. As small oasis in the midst of the holiday-hype the Castillo Bil Bil, a small building in the moorish style, serves directly at the beach of the same name.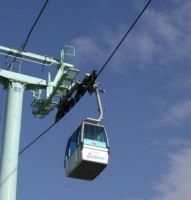 Arroyo de la Miel is a residential development, which is situated between the coast and Benalmádena Pueblo and is particularly popular with long-term tourists. For younger guests an attendance in the entertainment park Tivoli is worthwhile, which does't let arise boredom with its water game courses and shows. From the Tivoli park a teleferic leads to the summit of the Monte Calamorro (771 meters), from which you can enjoy a spectacular panoramic view on the sea and North Africa.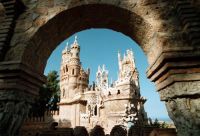 Four kilometers far away from the coast is Benalmádena Pueblo, the original local centre. With its lime-white houses, close lanes and flower-decorated window sills it retained itself the charm of a typical andalusian village. Its landmark is the sculpture "niña de Benalmádena" on the Plaza España, a girl with a shell in the hand. From the forecourt of the village church Parroquía Santo Domingo you have a marvelous view over all local parts and the sea.