Cadiz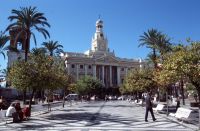 Cádiz is a city and port in southwestern Spain. It is located on the Bay of Cadiz and surrounded by the Atlantic Ocean. It is the capital of the province of the same name which is one of the eight comprising the autonomous community of Andalusia. Cadiz is one of the oldest cities in Europe and began as a trading post in 1104 BC. In 2007 it had a population of 130,561.
The Phoenicians called it Gadir and used it as a trading point of tin, silver and amber. Later the Carthaginians developed into a busy port which ultimately prospered under the Romans because of its strategic location to trade with the New World. The Moors came to rule Cadiz in the 16th century and their influence over the city and its character. Christopher Columbus sailed from Cádiz on his second and fourth voyages and the city later became the home port of the Spanish treasure fleet. Consequently, the city became a major target of Spain's enemies.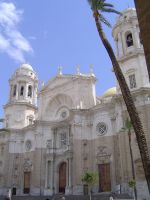 Among the many landmarks of historical and scenic interest in Cadiz, there are a few you have to visit. The city can boast of an unusual cathedral of various architectural styles, a magnificent theater, an attractive old municipal building, an eighteenth-century watchtower, a vestige of the ancient city wall, an ancient Roman theater, and electrical pylons of an eye-catching modern design carrying cables across the Bay of Cadiz. The old town is characterized by its narrow streets connecting into magnificent squares, bordered from the sea by the City walls. Most of the landmark buildings are situated in the squares.
The province of Cadiz boasts of a 260 km coastline containing innumerable beaches of fine white sand like in the Carribean and beautiful shores (Costa de la Luz). And, if you're lucky enough to be visiting in February you will be able to experience one of Spain's wildest and most entertaining carnivals.