Granada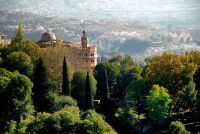 Although civilizations have flourished on this land since antiquity, the Golden Age of southern Spain came about only after the arrival of the armies of Islam, who had swept out from Mecca in the 7th century across the vast deserts of North Africa and crossed the straits of Gibraltar in the 8th century. This newly-conquered land, at the very edge of Islam, would now be known as al-Andalous (Andalusia).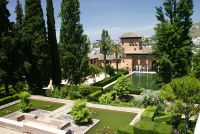 The Moors created a stunning civilization that outshone its neighbors in Christendom and in the rest of the Islamic world. Medieval Andalusia was a light in the Dark Ages of Europe: a land where Muslim, Christian and Jew created an intellectual, advanced and tolerant society. Muslim poets sang of their beloved land as a terrestrial paradise. Jewish poets called al Andalous their second Jerusalem.
No place can serve as greater testament to the glories of Andalusia than the hills of Granada - especially that legendary hill known as the Alhambra. Granada was, for centuries, the last stronghold of the Moors before their final defeat in 1492 to the Catholic monarchs Ferdinand and Isabella.. The fort, palace and gardens of Alhambra, whose beauty were legendary even in their own days, were the heart and soul of the Moors.
The beauty of the Alhambra palace and the Generalife gardens, is not only that the Moors were brilliant architects of bricks and mortar, of precious marble and delicately carved wood, but also of trees and flowers, of cascading fountains and tranquil pools.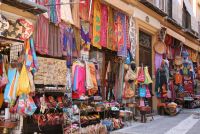 You can stay in the shadows of the Alhambra either in the 1908 Alhambra Palace - a gracious, old-world hotel with spectacular views or in the small parador of the 15th century convent of San Francisco.
Granada is one of the pearls of Spain, most visited by tourists from all the world. The long-time capital of Moorish Andalusia has to offer the most important reminds of this epoch in Spanish history, with the world-famous "Alhambra" at the top of the list.
Walk through beautiful gardens, charming narrow streets filled with flowers, sit down in one of those typical taverns to have some of that famous "Trevelez" ham and local wine, and breath the centuries of history around you anywhere. There are gypsies singing "Flamenco", and don't miss to visit their famous "Cuevas" - caves - in the mountain of the monastery of Sacromonte where some of them really live still nowadays making magnificent artisany. Granada's popular festivals, based as well on Moorish as Christian tradition, are most attractive.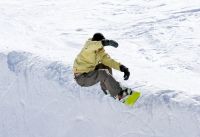 The city is located at the foot of the Sierra Nevada, Spain's highest mountain-massif with great posssibilities for winter-sports like skiing or snowboarding. The highest peak, "Mulhacen" arrives to 3478 meters. On the other hand it is not far from the Mediterranean sea, so Granada is a great place to visit in any season.
Skiing in morning, beach in the evening...