Casares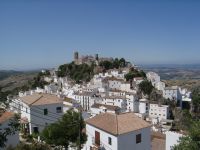 Casares is a village in the province of Málaga (Spain) with 4.050 inhabitants and is situated in the Sierra Bermeja and borders with Estepona, Manilva, and Gaucín. In Casares there are many objects of interest like the "Iglesia Parroquial de La Encarnación" as well as the "Baños de la Hedionda", which is located on the road to Manilva. This is where Julius Caesar was cured of a liver complaint, supposedly thanks to the sulphuric and alkaline waters that still pour out of the local spring.
Evidence of the Moorish presence can still be seen in Casares in the 12th century Castle, around which grew the present town centre. More recent history indicates the old village as the birthplace of the father of Andalusian nationalism, Blas Infante Perez de Vargas, labour lawyer, politician, and writer, who is considered to be the largest historic figure in Andalucia. He was born in 1885 in Casares and died during the civil struggle in 1936 in Seville.
The main fair (Feria) of Casares takes place during the first weekend in August. The day of the patron saint, the Virgen del Rosario, is celebrated in the first week in September, and in the middle of the same month is the Feria del Cristo.