Sierra Nevada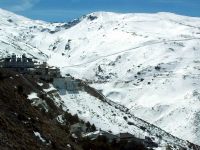 The Sierra Nevada is only a two-hour drive away from the Costa del Sol. The journey takes you through some of the most spectacular scenery in the province of Malaga and Granada, particularly in the region of Antequera. The resort of the Sierra Nevada has 39 ski runs and every year in March the FIS Downhill World Cup is held here. There are lots of other activities in the area, such as hiking, mountain climbing, horseback riding as well as canoeing in the summer if you don't like snow.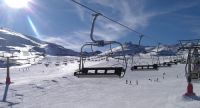 There are 4 lifts that can take you from the resort up to the slopes. From there you will find many lifts to the various runs. The total length of all slopes is 84 km, which is divided into 8 green, 33 blue, 34 red and 4 black runs, enough for everbody.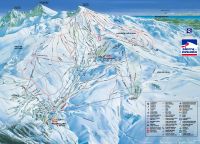 The resort is at the head of the Monachil and Dilar rivers. The buildings are found between 2100 and 2400m, but the highest point of the runs is at 3300m. The name of the village is Pradollano and it is in the Monachil district. Apart from the ski related stuff you will also find a Provincial Council Nursery, the sports park "Fuente del Mirlo", a mountain bike circuit in Los Prados de Zangarrita, banks to supermarkets, medical facilities, hairdressers and shops.
The safety on the ski runs is a top priority and the hi-tech control centre and four SOS posts are there to help the slope rangers and rescue team to promote it. The nightlife is as varied as it is fun. Skiing at night, restaurants, disco pubs and bars are among the entertainment possibilities.