Ronda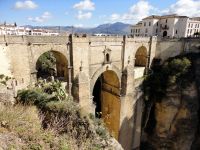 Ronda is a small town in the andalucian province of Málaga, situated in 723m high above sea level in the hillside called Serrania de Ronda, to which as well the natural parks Sierra de Grazalema and Sierra de las Nieves belong. The town is situated approximately 113 km west of the province capital Málaga and 50 km north of the Costa del Sol. With approximately 35,500 inhabitants, called Rondeños, and an area of approximately 480 km² the municipality of Ronda is one of the biggest "white villages" in Andalucia.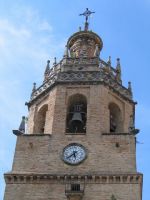 Ronda is at first known for its location: the moorish stamped Old Town, La Ciudad, is situated on a all around steep sloping plateau and is separated from the younger district, El Mercadillo, through a 100m deep gap, El Tajo, built by the Rio Guadalevín. The abyss is overstrung from three bridges, the Puente Árabe, the Puente Viejo ("old bridge") and the well known, in the 18th century built, Puente Nuevo ("new bridge"). More objects of interest are the church Santa María la Mayor on the Plaza Duquesa de Parcent, as well as the Casa del Gigante and the Palacio de Mondragón, including the museum of the city, "Museo Municipal", as well as well obtained patio and a moorish style garden.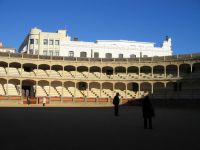 For the Spanish Ronda is particularly of importance because of his role in the evolution of the bull fighting. In the 18th and 19th century three generations of members of the family Romero developed those rules, according to which today still is being fighted. Beginning with the use of the rag, the battle of the Torero not on the horse, but afoot, to the style and pose, known as the Escuela Rondeña ("Ronda-School"). Popstar Madonna used the bullring 1994 in her video Take A Bow as scenery.