Manilva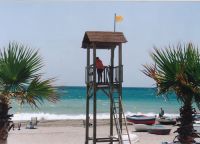 Manilva is a municipality on the Costa del Sol in the extreme southwest of the province Málaga. It consists of three principal places, whereby the most important is Manilva itself of course. A place which is about 2km afar from the coast. Second is the coastal place San Luis de Sabinillas, rather known as Sabinillas. The third part, the fishing village called el Castillo de la Duquesa or just El Castillo is approx. 1,75km western at the coast. In addition there are many further parts with its own name. There is e.g. Puerto de la Duquesa, a beautiful small place with a not so small marina and a lot of restaurants.
The Sunday morning Sabinillas market (rastro) is one of the biggest on the coast. It started as a car boot sale in 1990 in a small car park, but once it caught the attention of a wider group of people looking for a bargain it grew a lot. Since its beginnings it needed to change locations three times to accommodate its popularity. It's worth visiting.
With approximately 11,200 inhabitants you could mark Manilva as a town. The number of inhabitants rises annually. Two years ago there were just under 8000 inhabitants.